03/05/2012 11:26:55
Here at Glass HQ we've become more than a little sceptical of the new fad for BB (Blemish Balm) Creams - which supposedly act as a primer/moisturiser/ foundation/concealer in one and which don't seem entirely dissimilar to those popular 2-in-1 shampoos that had hairdressers up in arms 20 or so years ago.
The latest brand to launch a BB Creme, this time aimed at the 18-30 market, is Dior - which, as a combined serum and foundation, appears more like a tinted moisturiser but with a great deal more coverage, with an added SPF 30. As with all BB Creams, only a small amount is needed to provide sufficient coverage but unlike the 'pancake' effect resulting from most heavy foundations, the product is infused with Dior's Hydra-Life botanical serum, as well as mallow water to smooth
the skin's texture, resulting in a healthy, hydrated glow. What's more it's colour seems to adapt to most skin tones (the brand claims 'all' but we remain to be convinced about its effect on darker skin tones.)
Overall Dior's BB Cream is a hard-working product which (unlike its competitors) doesn't promise to do too many jobs at once and lasts a lot longer than most foundations. Despite our initial misgivings, we may well be on our way to becoming born-again BB fans...
Dior Hydra Life BB CREME is £41, available May 14th from Selfridges.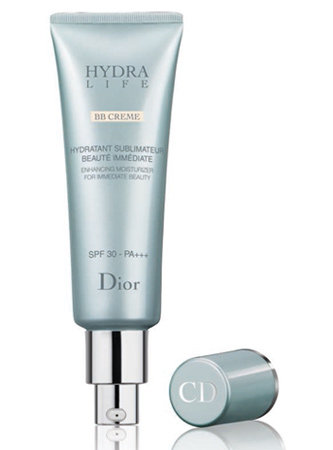 Edited by Viola Levy - 03 May 2012 at 11:26am
Comments
There are no comments yet, be the first to comment on this article.
Glass Magazine RSS
Subscribe to News RSS
Caroline F Ward
Likes boats, cameras, satire, Discworld novels, hammocks and occasionally cooking equipment. She dislikes communists, shower curtains, songs by Queen and badly made caipirinhas. The 'f' stands for fabulous.